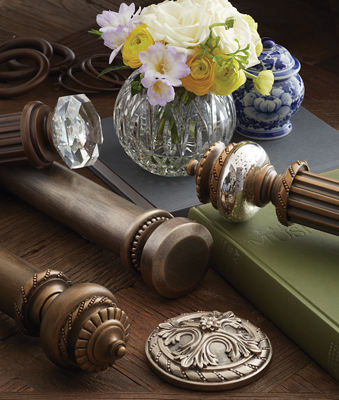 Are you currently using Paris Texas Hardware?
Great, we have some secrets to share with you!
Have you always wanted to use Paris Texas Hardware, but didn't know how?
Even better, we are going to show you how simple it is to work with these beautiful products!
Do you search for ways to increase your profits on projects?
You bet, we are going to help you discover additional profits!
Join us as we introduce Karen Cooper, Expert Extraordinaire, as she shares how easy hardware can be and how every project will be more profitable.
When every aspect of a design is carefully considered, the resulting creation is truly distinctive.
And when a brand pays fanatical attention to every product detail - deliberately curating every collection, year after year - exceptional design becomes its defining signature.
Since 1992, Paris Texas Hardware has been devoted to providing exclusive collections of drapery hardware, featuring nothing but one-of-a-kind products. The designs have always been, and will always be, uniquely theirs. Whether it's a finial silhouette that has never been seen before or an Old World classic with a new world twist, they promise to provide you with something different – something that you cannot find anywhere else in the world.
They painstakingly pore over every detail and edit each collection of every drapery hardware product – always with your ultimate creative inspiration in mind.
Don't miss this!
Please let us know you are coming - we'll have something special for you!